---
Births

From a genealogical point of view, only the following information is of genuine interest:
the name,
the date of birth,
the place of birth,
the name, surname and dwelling place of the father,
the name, surname and dwelling place of the mother, and,
occasionally, the name, residence and qualification of the informant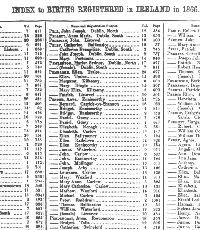 [Birth index: Click for larger image]
It is important to approach the birth indexes with as much information as possible from other sources. If the birth took place between 1864 and 1880, if the family was Catholic and if the relevant area is known, it may be best to try to identify a baptism from parish records first, and in many cases, if information rather than a certificate is the aim of the research, the parish record itself will be enough. If the area is known, but not the date, it may be useful to search the 1901 and 1911 census returns to obtain at least an approximate age and, hence, date of birth. If the names of siblings and the order of their birth are known, but the area and date are not, it may be necessary to search a wide range of years in the indexes, noting all births of the names which occur in the family, and then try to work out which births of the relevant names occur in the right order in the same registration district. If the name is unusual enough, of course, none of this may be necessary.

Using birth records with other sources

Ages recorded in 1901 and 1911 census returns can be used to narrow the range of years to be searched. If the birth registration is uncovered first, it records the precise residence of the parents, which can then lead to the relevant census returns, providing fuller information on other members of the family.
← Previous Next →